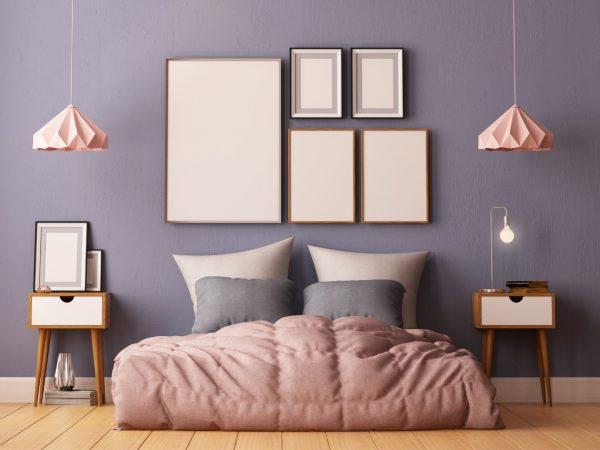 Choose a Neutral Color
When you decorate your bedroom, you should start by choosing a neutral paint color for the walls. Instead of using bold and bright colors, you should choose more subtle shades such as lavender, pale green, or light blue. These colors are calming and serene and will help you wind down at the end of a long day. To add to the coziness, you can accessorize your bedroom with jewel-tones such as dark browns, sapphire, or amethyst. The richness of these colors is perfect for setting the mood for comfort.
Simplify
When decorating your bedroom, you should keep it simple so that it remains cozy and uncluttered. This will help you unwind at the end of the day, and not feel overwhelmed or anxious. You should keep the pieces of furniture to a minimum, so they do not overwhelm your space. Your bed should be at least three feet away from the walls and at least two feet away from your dresser or chairs. This will help you have ease when moving about your space and allow you to feel open and calm.
Measure Your Space
When you are redecorating your bedroom, it is likely that you will get new furniture for your space or add some new pieces to it. It is important that you measure your room first and choose furniture that fits well in it. Furniture that is too large will overpower the room and make you feel cramped and boxed in. If it is too small, it will leave your room feeling unfinished and lacking and make the items look like they are lost in the room.
Choose a Theme
If you aren't sure what types of furniture or accessories to choose for your bedroom you should consider starting by choosing a theme. This will help you decide what paint color and items will suit the room best and keep you on track when accessorizing. Here are some themed bedroom ideas that will help inspire you for decorating your own room.
Ditch the Electronics
If you would like to make your bedroom into a true getaway, then you need to leave the television, exercise equipment, and home office items out of the room. Your bedroom should be a place where you can go and relax and feel rejuvenated after a great night of sleep.
Learn More About How to Decorate a Bedroom Today
These are some great ideas for how to decorate a bedroom and should help you get started. First, choose a neutral paint color for the walls that fit into the theme of your room. Next, declutter your space by choosing furniture that fits the size of your room.
Lastly, leave all the electronics outside of your bedroom so you can get a great night's sleep.
If you would like more household tips or information, be sure to visit our website daily!