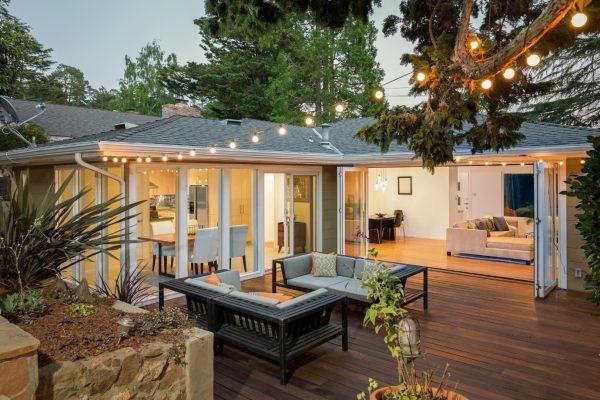 Americans love their backyards.
Twenty-three percent of homeowners spend between $1,000 and $5,000 a year on outdoor projects around the home. Another 15% spend upwards of $50,000 on full-scale renovations and decorations. These backyard design plans cover a wide range of tasks, like improving irrigation and drainage, making better use of the space, bringing about more (or less) shade, and much more. People tackle these projects for a variety of reasons. Some want to turn their house into a home. Others want to prep it for selling. Regardless of your reasoning, you're probably looking for some backyard design tips or ideas. Luckily, many have done this before you. That means there's a wealth of information online about what to focus on, what updates are worth the effort, and top considerations. We've taken the overwhelming advice and narrowed it down in this simple-to-follow guide.
Grab your rake and get to reading!
1. Throw Some Shade (But Not Too Much)
If you're struggling to find shade in your backyard, you'll be less inclined to go outside on sunnier days. Similarly, a backyard with too much shade means fewer opportunities to get warm. We're saying you need to find the perfect balance of open-air with shaded areas to find refuge from the sun. There are several ways you can do this to fit a variety of tastes and budgets. Consider some of the following options:
• Making or buying a triangle-cut sail shade that covers your patio or lounge area (can be inexpensive and even DIYable)
• Using motorized retractable awnings to designate a relaxation space (a pricier option with a luxury feel)
• Installing a pergola, which allows for both sun and shade in one
• Attaching large, billowing curtains to a pergola
• Adding patio umbrellas
Depending on your space, some options are more attainable and accessible. Go with the choice that looks right and meets your budget.
2. Make It Navigable With Pathways
Pathways have a way of pulling your entire space together. While you may not need them, especially depending on how large or small your backyard is, they're pleasing to the eye and can make navigating your backyard safer. There are several options in this category, too. Consider a pathway that's sand, stone, dirt, brick—you name it! Choose a material that matches your current landscape.
3. Invest in Some Patio Furniture for Simple Relaxation
What good is an outdoor space if there's nowhere to hang out?
You can choose a small set-up—think, a love seat, a table, and a chair or two—or you can go for the full display. That depends on how many people are in your household and your propensity to entertain. If you frequently have people over, you can have multiple set-ups: one on the porch and another around the firepit, for example.
Speaking of fire . . .
4. Consider Adding a Firepit
The porch is a fantastic localized spot for hangs—but why stop there?
You'll rarely meet an individual who doesn't enjoy getting lost staring at flames all night. Plus, there's the option to make S'Mores, grill a hotdog or two, and enjoy your backyard even during the winter. A firepit gives your landscape some depth and makes it so there are multiple spots for people to spread out when having a group gathering. There are several types of firepits, meaning you can pick your favorite style. Perhaps that's a classic wood-burning one or a sculptured stone masterpiece. You can have something installed permanently or choose a portable option that's easily moved around.
5. Of Course, Don't Neglect the Greenery
Trees, shrubs, plants, and flowers are the cornerstone of any beautiful backyard. Landscaping is a lot to keep up with, but many homeowners enjoy a day getting lost in their garden. From routine maintenance to harvesting food, a garden is a wonderful way to make your space more appealing while also giving you a point of pride. If you've been a bit neglectful lately and find yourself Googling things like, "fix my yard" you can consider hiring a contractor for the short- or long-term. They'll be able to eradicate dead stuff, fill up your space with plants that thrive in your region and make sure everything stays healthy.
6. Light It Up
Lighting is all part of the scope of landscaping. It's also an excellent way to bring your backyard together and enjoy it in the later hours.
If you already have sidewalks or pathways, you can install solar lights along its edges to illuminate the walkway. You can also place LED strips along with the porch's banister or string lights that decorate your trees and provide a soft touch. Other options include outdoor sconces, lanterns or tiki torches, and spotlights (great for displaying your most prized tree).
7. Use Smart Storage Solutions
There are several ways to store items in your backyard while making them look natural and seamlessly integrated. Often, you can find patio tables or benches that double as storage compartments. When open, they're deep enough to fit things like pool or garden supplies. Once closed, they work as tables or seats. Most people won't even realize your furniture is also holding your goggles, gardening gloves, or pool noodles. You can also have an entire tool shed dedicated for all your larger objects—like rakes, shovels, and lawnmowers—making the outdoor space more visually appealing and the backyard clutter-free. Basically, anything that keeps the organization in check (such as a hose reel) makes your backyard feel cozier and less chaotic.
Enjoy the Great Outdoors With Prime Backyard Design
Backyards are a fantastic gathering place, relaxation space, and extension of the home. You can have a BBQ, read a book, or take a nap. You can sit in the shade and sip lemonade or lay in the sun and soak up some rays. You can picnic from the comforts of home and cook dinner outside. A backyard is a sacred place. Make it even more special using these backyard design tips that are sure to satisfy and elevate your outdoor experience. Good luck with keeping your friends, family, and neighbors away!
How else can you improve the home? What are other renovations worth your time and dollars?
Consider our site your go-to source for all house-related content!