Bathroom remodeling can be a profitable investment. Many homeowners spend hard-earned cash on renovating their bathrooms. They believe it increases their property's worth. So, renovating a bathroom may seem like an expensive thing to many homeowners. However, it pays well in the long run.
Usually, the majority hire professionals to install shower doors, new bathtubs, sinks, and basins. An expert is also preferred for the paint and installation of new tiles. Well, you can even do all this on your own. DIY bathroom remodeling has become a new norm. This article will compare the pros and cons of hiring an expert for bathroom remodeling vs doing it on your own. So, let us get into it!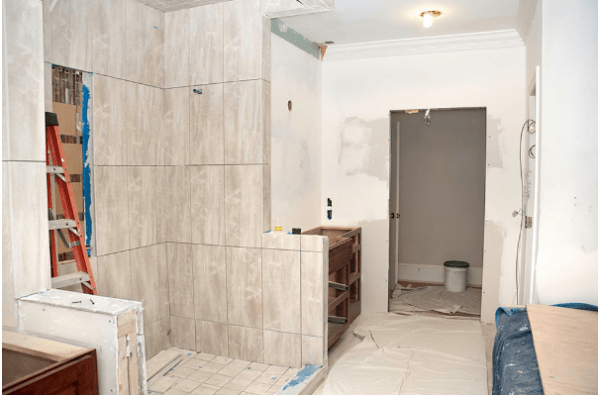 How Hard Is It to Remodel a Bathroom?
Bathroom remodeling isn't a child's play, that's for sure. It requires time, energy, and dedication to complete the whole project. In addition, you often have to deal with complex installations like electric connections, sanitary fittings and installing glass types for shower doors. So, this all gives us an idea that it is nearly impossible to do all these renovations on your own. Well, yes, it is possible to remodel a bathroom using some DIY hacks. However, it remains a challenging task. Don't worry; we have an easy hack for you to save some cost on your next bathroom remodeling project.
Let Experts Handle Some Aspects
It is recommended to hire an expert for some aspects of bathroom remodeling. If you are not experienced in plumbing or electrical work, it is better not to try doing these things yourself. You could get hurt if you try to do these things without experience.
Hiring a professional to work on your remodel will help make sure that the job is done accurately and safely.
1: Plumbing Work

If you are planning to remodel your bathroom, you may be tempted to do all the work yourself. However, plumbing is a complex system of pipes and fittings that require special training and experience to install correctly. So, hiring an expert for plumbing-related tasks would be better. That's because even a small mistake can lead to some expensive repairs later on.
2: Electric Work

Many homeowners try to do the electrical wiring themselves when they remodel their bathrooms. But this can be dangerous because electricity is tricky, and one little mistake could cause huge problems.
It is always better to ask a professional to do electrical work. Licensed electricians know how to do the work safely and correctly, from wiring to installing fixtures. Therefore, if you are planning a bathroom remodel, it is best to leave the electrical work to the experts. This will help ensure that the project is safe and successful.
DIY Bathroom Remodeling – Benefits
Many benefits come along with completing a DIY bathroom remodel, including:
1: Increased home value
If you are thinking about selling your home, remodeling your bathroom can be a good investment. This means that you will get most of the money back that you spent on the remodel when you sell the house.
2: Greater Satisfaction
If you love your bathroom, you will enjoy spending time there. A bathroom that is designed well can be a relaxing place to go at the end of a long hectic day.
3: More Storage and Better Organization
Many people find that their bathrooms are messy and could use more storage. You can add extra storage and make it look attractive by doing a Do-It-Yourself (DIY) remodel.
Professional Remodeling & Renovating – Benefits
1: Better Safety
Expert bathroom remodelers know what they are doing. These are licensed professionals whom you can rely on for quality bathroom renovation. Usually, safety is a major concern when following a DIY hack for remodeling a bathroom. That's because homeowners don't know much about plumbing, electric connections, etc. These experts ensure that all the work is done by following certain Standard operating procedures (SOPs).
2: Enhanced Overall Finishing

You may know certain bathroom accessories. However, installing many bathroom accessories like shower doors isn't that simple. So, experts do such installations properly and precisely. Once done, they can ensure any bathroom's enhanced and well-finished look.
How to Remodel or Renovate a Bathroom on A Budget?

There are many ways to remodel a bathroom without spending a lot of money. One way is to purchase affordable bathroom accessories. Another way is to do some of the work yourself. And yet another way is to find creative ways to save money while still getting the look you want. Sounds Good? Let us explore these tips in detail.
1: Purchase Affordable Fixtures and Accessories
You can find great fixtures and accessories deals if you shop around. Many online and offline retailers sell affordable bathroom fixtures and accessories.
2: Do Some of the Work Yourself

If you are good at fixing things, you can save money by doing some of the work yourself. For example, you can put in new light fixtures and other accessories, paint the walls, and even tile the floor yourself.
3: Find Creative Ways to Save Money While Still Getting the Look You Want

There are many ways to save money when remodeling your bathroom. One way is to purchase used fixtures and accessories. Another way is to find sales and discounts. And yet another way is to do it yourself.
4: Hire a Professional

If you are not good at fixing things or if you do not have time to do it, you can hire someone who is a professional. A professional can help you save money by doing the work for you.
Final Words:
So, now you know what it takes to remodel a bathroom on your own. We also shared the benefits of hiring an expert for the bathroom remodeling. No doubt, you will have to pay them extra, but they will install all the fixtures and accessories safely and properly.
Anyhow, if you are installing any glass accessories like glass shower doors, prefer to buy them from a reputable glass seller.