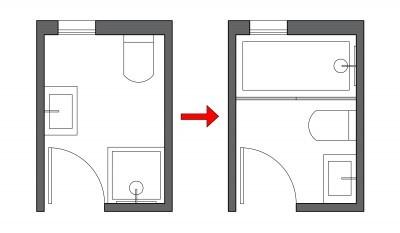 Planning your bathroom can be a daunting task for most people because of the many details that are usually involved that are not easy to workaround. The bathroom is one of the most commonly used places in the house. Therefore, it should be designed properly to accommodate the practical needs of most people. Installing a new bathroom is an important undertaking that can be quite tricky. It requires some level of fitting and technical skill which should be applied, usually in some limited space. Therefore, you should endeavor to plan to avoid costly mistakes and modifications that are synonymous with non-comprehensive plans.
Design the layout
If the current bathroom layout works perfectly well, there is no need to have it altered. Not only does this save you the cost and energy involved in making unnecessary changes, but it also helps you to save time which you can use to make other necessary adjustments. However, if the existing layout is not right for you, you can come up with an appropriate way to make design changes to your layout to accommodate your preferences. For instance, if you wish to increase the amount of space, you can fit sliding doors or rehang them. You can also pay a visit to a local bathroom showroom to get advice and ideas on how to maximize the use of available space and minimize costly mistakes in the process. Moreover, you should look ahead and determine both the current and future needs to design a bathroom that can stand the test of time.
Assess the bathroom needs
To set you off, you can start by generating a priority list for the bathroom. A family bathroom, for instance, will require more fittings and specifications such as having double basins, a separate shower and lots of storage room. A guest bathroom, on the other hand, may just need a loo and shower that can serve an individual. The next thing you probably want to do is to determine the amount of space that you wish to achieve. This information will help you to design the bathroom appropriate and equip with the appropriate high-quality bathroom supplies & products that match your style. This ensures that the fittings, fixtures and chosen color scheme all complement each other to create a unique aesthetic view.
Ensure the bathroom is properly ventilated
Since your bathroom is probably going to be shared by more than one person, it is necessary to ensure that it is always hygienic and properly ventilated for effective use. For this reason, you should always ensure that there is a proper flow of air within the bathroom to ensure that its freshness is maintained. In the same vein, you should ensure that you use the appropriate materials that can withstand condensation that usually happens in the bathroom.
Keep storage needs in mind
Appropriate storage is one of the key success factors in designing a suitable bathroom. Therefore, you should ensure that you have effective storage areas for your toiletries such as tissue paper, and other items such as bathing soap and shampoo. Effective storage provisions help in the proper management of bathroom toiletries which make it more efficient and easy to use. This helps in the proper management of such toiletries thereby increasing their lifespan.
Provide for efficient bathroom lighting
Bathroom lights should be sufficient for whoever is in the bathroom yet non-obstructive to people who are not using the bathroom. For instance, when using a bathroom in a shared bedroom, the light from the bathroom should not interfere with the activities of the other person in the room.
Conclusion
Bathrooms are critical to the daily activities of most people, if not all of them. Therefore, when designing a bathroom, it is important to keep in mind the industry's best practices, some of which are discussed in this article. Therefore, you should be sure to use the appropriate high-quality bathroom supplies & products for furnishing your bathroom to facilitate the various activities that happen in the bathroom. Not only will this improve the bathroom user's experience, but it will also go a long way in preventing infections and diseases that are synonymous with poorly maintained bathrooms.