As an extension of the home, the outdoor area deserves the same dose of love and attention you invest in the interior décor. And if we're being honest, your garden requires extra of what the rest of your home gets since it's out in the open, exposed to the sight of passers-by. As such, it's not only reserved for the cultivation of plants considering its decorative role.
Even if you couldn't care less about what others think of you, or your home's curb appeal for that matter, the time and money spent on creating a lovely area would more than pay off. Think about it, you'd get that special retreat you can visit anytime you're in need of rest and relaxation, whether it's after a tough day at work or too much of other people's drama for your liking.
There are various ways you can turn your outdoor spot into a stress-free zone, but nothing compares to the level of zen Japanese-inspired meditation gardens bring about. Okay, now that I have your attention, you may be left with one crucial question: How do you make a meditation garden?
Rest assured it's simpler than you think, especially when you use as your starting point the fact that Japanese Buddhist monks were the ones to come up with these gardens in the first place. Taking it from here, you're going to require certain elements to pull off a meditative yet minimalist outcome that would bring you all the peace you need to shake off the daily stresses of modern life.
Introduce Symbolic Statuary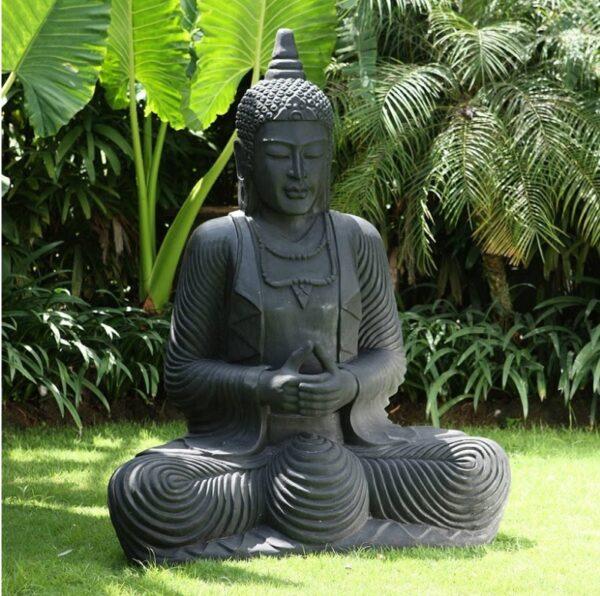 This type of garden can't do without the appropriate statuary which in this case serves more than décor. If you want to create a peaceful area that would motivate you to do some meditation and reflection, while protecting your home and injecting it with positive energy, then explore the options of garden buddha statues and take your pick. There's no oriental sanctuary without one!
Depending on what you want to invite in this area, and what most speaks of your personality, you've got several common statue styles you can choose from: meditation Buddha, happy Buddha, protection Buddha, earth-touching Buddha, teaching Buddha, gift-giving Buddha,standing Buddha, and reclining Buddha. Whichever you feel more inclined to buy, you can bet it would be a welcome addition to your outdoor space.
Material is another aspect you're going to have to focus on given that it's a factor of great importance in Japanese meditative gardens with stone, water, and plants being the three most crucial choices. Taking this into account, you won't make a wrong decision if you get a garden buddha ornament made from stone instead of other options like metals, terracotta, or wood.
Once you've found the ideal design, don't forget to pay it the respect it deserves by minding the placement. Ideally, it should be facing your home, installed on a stone slab to keep it raised above the ground. The same applies to more than one statue as well, and don't be afraid of dispersing them in an asymmetric way because Japanese gardens are famous for their irregularities and asymmetry. How else would you get an outdoor space with natural appeal?!
Create Soothing Environment with Water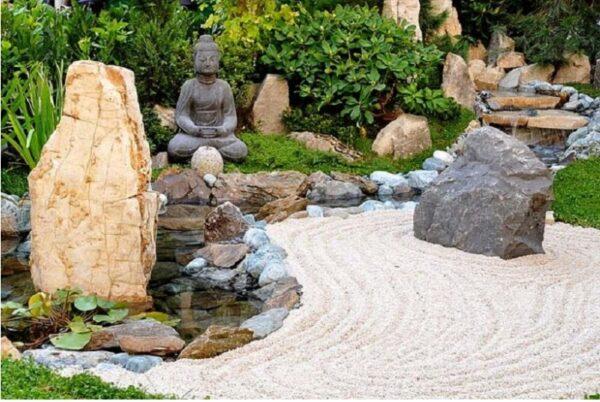 The zen garden is one of the most popular types of Buddhist gardens known as a "dry landscape" garden because of the typical sight of raked gravel that represents water and waves. As such, the actual water isn't one of the common elements, but you have the green light on introducing it if you want to emphasize the meditative character of the area.
A charming little pond or stream right beside the carefully handpicked garden buddha statues can truly transform your home more than you imagine because they add joy to any area with the views and sounds of serenity. Asian-style fountains can do the same trick.
Now, in case you'd like to further kick it up a notch, you could do so by throwing in some lotus blooms. Get extra décor points with the addition of golden koi carps. And, should you feel like something's missing, especially if you have an outside space that's on the bigger side, consider adding a wooden bridge over the water for more interest.
Don't want to introduce actual water? That's okay! A cute bridge is still a welcome feature over gravel or sand, and even without water it would do a visual water trick. Moreover, it would turn into a point where you can stop, get in a pensive mood as you look around at the classic buddha statues and appreciate your home and life.
In terms of other vantage points that would boost the aesthetic and tranquillity, count on the help of benches, or a pair of chairs matching the design and color of the bridge. To be able to better enjoy the views, opt for the strolling type of Japanese garden and create an interesting pathway that would allow you to walk through and stop to marvel at everything the garden has to offer – from your meditation spot with the unique garden buddha statues to your gravel waves, carp, lighting, and plants.
Complement the Sense of Calm with Plants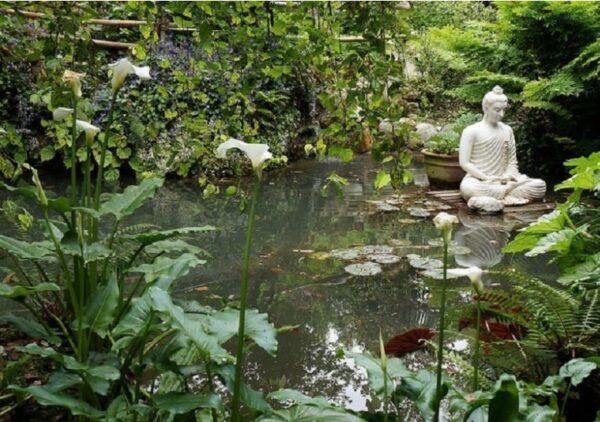 Although zen gardens tend to be minimalist and don't have too many plants, you still need some well-chosen and strategically placed ones to get the transformation you're after. However, given that it's a project with the purpose of creating a tranquil zone, there are some dos and don'ts when it comes to the types of plants you can welcome.
Regardless of whether you're adding lush foliage around the harmonious buddha ornaments to boost the liveliness, or surrounding the bridge, fountain, pond, and other attention-grabbing features, choosing low-growing plants and lianas is the way to go. Besides filling the home with greenery and improving the curb appeal, options such as these are also ideal in the sense they don't add visual clutter. Because let's face it, zen and clutter just don't mix.
If you're curious to know of a few recommended options, you've got ferns, azaleas, mosses, umbrella pine, junipers, bamboo, and bonsai that could steal the show in your garden. Before you let your taste lead the way, remember to check the requirements of each of these to ensure you plant them in the most appropriate spots and provide them with the needed care, water, light, and nutrients.
If you're aiming for an interesting and practical touch, enclosing the area accessorized with statuary, rocks, ponds, or other features to your liking with simple bamboo fencing or screening would come in handy with scattering creeping plants all over. Secluded by plants, out of the sight of neighbors, relaxing in the natural zen space – what more could a person want!?