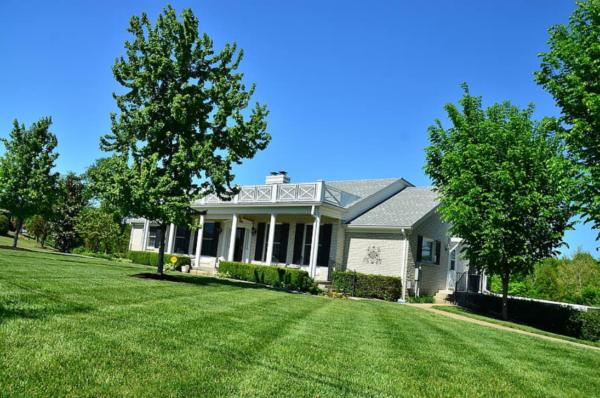 Is your home looking a bit basic or a little outdated? It may be time to finally step up your game and have a lawn makeover! A fresh coat of paint, some new landscaping, and even adding a new feature can make all the difference. Keep reading as we discuss a few tips to get you started on your lawn upgrade journey that will surely make your home stand out.
#1 Keeping it Lush and Green
The first step to an appealing lawn is to have healthy grasses. They may be designed to endure foot traffic, but maintenance is still necessary to keep them looking wonderfully green. Here are some suggestions on how to achieve a well-kept lawn:
Use an organic fertilizer that is appropriate for your type of grass every month to help nourish your plants' roots and promote growth.
Water deeply and evenly, but not too often, to avoid over-saturation
Make sure to give extra attention to any patches you see lacking coverage so you can fill them up with fresh seeds.
Remember to have them aerated.
Invest in a quality lawn mower to trim the grass and keep it short.
If you are looking for a hassle-free yet effective maintenance program for your lawn, you can contact lawn experts at Heroes Lawn Care and keep those grasses in the best shape.
#2 Incorporate Colors
Keeping the view green might be enough for some, but a touch of other colors can bring a lively feel to your home! Adding a few colorful blooms, ornaments, and decors can brighten your landscape.
If you're looking for low-maintenance plants, consider getting flowers like petunias or geraniums, as they thrive in sunny areas but still require minimal care. For more vibrant colors, you can try planting flowers with larger petals, such as roses, dahlias, and sunflowers. If you want a more permanent display of colors in your yard, try getting ornamental grasses like blue fescue or variegated pampas grass. Creating an arrangement with these lovely plants can take your lawn upgrade to the next level!
#3 Create Focal Points
To make your home worthy of a second glance to every passerby, you must have something striking to make an impression. Setting up features as focal points will draw the eye to certain areas of your yard, making it look more attractive. It is important to note that strategic placement around the lawn is vital for maximum effect. You can try to:
Include a large tree or bushes in your landscape
Incorporate attractive "lawn accessories" such as clay pots, sculptures or structures, and even the typical garden gnomes
Install a fountain, pond, birdbath, or other water feature pieces that can add interest and personality to your yard. A small stream lined with rocks also works well when strategically placed between greenery patches.
#4 Set the Mood with Lighting
Outdoor lights have been in trend for quite a few years already. Lighting can make all the difference in making your home look more appealing, especially at night. It is essential to mind the tone of the lights you wish to put on as this affects the vibe you would make. Moreover, solar-powered and LED lights are the best choices to skip an expensive electric bill.
With various types available in the market, you'll surely be able to land on a favorite personal choice for your lawn upgrade. These includes:
spotlights to emphasize features and plants or to make a grazing effect on the walls
string lights to string up those tiny white or warm bulbs around trees and other plants, or to have them up your walls or your nook
floodlights to brighten large portions of your lawn
ground lights that can highlight pathways or driveways, which would look magnificent at night
#5 Provide a Seating Nook
Whether you need more space for entertaining guests or want to relax outside, adding seating to your outdoor spaces is key. Choose from benches, chairs, and tables that match your home's decor. You could also opt for hammocks or anything that can bring comfort and style. Remember that these features are meant not just to beautify your home but also to offer their functionality. That said, choosing quality ones that will surely last is essential.
To Sum It Up
A lawn upgrade for your home is manageable if you know the basics. While you can always ask for professional help, it is still possible to take the DIY route and personalize your lawn space with some of the mentioned tips. Start planning now, and get ready to be showered with compliments from friends and family!