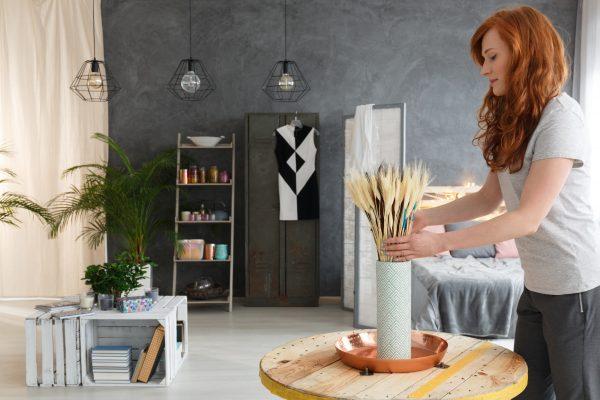 There are certain things you should know and do when designing an apartment. You can check out our guide here to learn how to decorate your apartment.
Moving into a new space means getting a blank page to make your mark on. How you decorate your new place will play into the vibes it emanates. Create a space that looks chic and feels like home! Little details make a big difference in apartment design. Keep reading to learn how to decorate your apartment!
Make the Apartment Appear Bigger
If you move into a small apartment, use an illusion to make it appear more spacious. You can do this in a number of ways. Buy furniture that stands on legs. Lift makes it so you can see the floor beneath, making the room appear more spacious. Mirrors also create the illusion of more space by lighting the room up more and making it appear to have more depth. Angle your mirrors towards a focal point to optimize this. On the windows, hang floor to ceiling curtains. Mounting curtain rods to the ceiling will make the ceilings look higher as it draws the eye upward. Wall mounts will also help you obtain this effect by keeping floor space open. Utilize your wall space with staggered shelving, wall art, and a mounted television and entertainment center.
Choose a Trendy Paint Color
When this real estate company helps you find your perfect apartment, make it your own with one of this year's hottest paint colors! For something light and summery, go with a shade of light pink. If you want to design your apartment with boldness, go with this year's top pick, navy blue. If this feels too over the top, then choose one wall to access with this classy color choice!
Use Multifunctional Furniture
When decorating an apartment, you do not want to make it seem cluttered. Make the most of the space you have by using a few pieces of multifunctional furniture. Choose an ottoman that duos as storage, a coffee table with drawers or bins beneath, and dining room table with drawers. You will need less bulky pieces while not having things lying around.
Give It Curves
Furniture styles from the 60s are making their way back in with a modern spin! Choose pieces that curve asymmetrically. If you really want to make a statement with it, find a wavy chair in a bold accent color to make the room pop.
Wallpaper
Wallpaper went out of style for a while. But, it has made its way back in! For your bathroom, kitchen, or bedroom, pick a fresh floral print to plaster on your walls. Choose something with a deep contrast to really make a statement.
Hang plants
Nature offers a plethora of living decor! Plants offer a nice pop of color that livens up the room and help it feel like a healthier living space. Owning an apartment may feel cramped on floor space, so utilize the ceiling and hang your plants around the kitchen and near windows in other rooms of your home
Decide How to Decorate Your Apartment for You
The key when deciding how to decorate your apartment is making sure it makes you feel at home. While you want it to feel chic, you also want it to reflect your unique sense of style.
We want to help you make every room feel like yours! Read more home decor tips on our website!