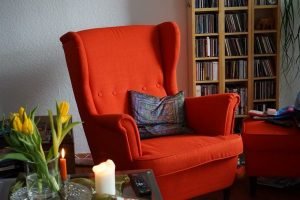 When it comes to small spaces, figuring out the right design can be quite a challenge. The most obvious problem is lack of space. Since the living room is the place where you welcome your guests, you need to provide enough seating. With regard to large spaces, it's easy to ensure as much seats as necessary. But how do you do that in a tight room so that it's both functional and looking spacious? It's a tough one. But don't stress over. Make sure to read our tricks and tips on laying out a small living room, which we have provided down below.
1) Use less furniture. It makes sense to use less furniture in a tight living room. And yet, many people are afraid there might not be enough seating for their guests. Well, here is a great way to fix this – keep a stash of chairs or stools on hand under a bed or in a closet. When friends are coming over, simply take out the extra seats and lay them around the room. Problem solved.
2) Forget about the sofa. If your living room is small and tight, a big couch will take too much space and look awkward. Go for armchairs. You can never go wrong using a circular coffee table. Place four armchairs around it. It's a classic arrangement that is absolutely functional. It makes sure that the entrance, windows and fireplace are clear. You don't have to worry that the sofa might block your entrance or windows or anything.
3) Use daybeds. While we are still on the topic of sofas, consider our next tip. If you want something bigger than an armchair that won't block the room, go for daybeds. It can be frustrating to enter a room and stumble across the back of a couch. But daybeds don't have backs (well, most of them). They will make your living space feel open. If you desire, you can use a backless sofa in lieu of a daybed are advising you from PT Builders Barnes.
4) Fill a small corner completely. Sometimes the best thing you can do about a small space is to use large pieces of furniture (well, not larger than the room can hold). We know it sounds counterintuitive, but sometimes it works. If you have a small corner, placing a small coffee table or cabinet will only emphasize how small the space is. On the other hand, if you place a large two-seat sofa or sectional, it will give the feeling of a bigger, uncluttered room. Not only that, but it will seat more people. Hence, no worries.
5) Use a simple design. Classic furniture is a better pick when it comes to small living spaces. Any overstuffed versions will make the room feel and look overcrowded. If you want to spruce up your living room, try using chairs of different colors or a stash of cheerful cushions and pillows arranged on your sofa/daybed/armchairs.
6) Opt for furniture with built-in storage. The best way to limit clutter and still enjoy more storage space is to take advantage of built-in storage. Nowadays plenty of furnishing pieces come with built-in storage. In addition, you can transform an ottoman into a coffee table.
7) Last but not least, brighten up the room. Your living room may not be as large as you wish, but it can look big with a few tricks. First of all, paint the walls a light color so that they don't close in the space. The next thing you want to do is place a few mirrors to give the feeling of a bigger space. Also, open the curtains to allow more natural light into the room, which will also make it look larger, cleaner and, of course, brighter.
So, this is how you can still have a functional and spacious living room. We hope you liked our tips.
(Visited 4 times, 1 visits today)