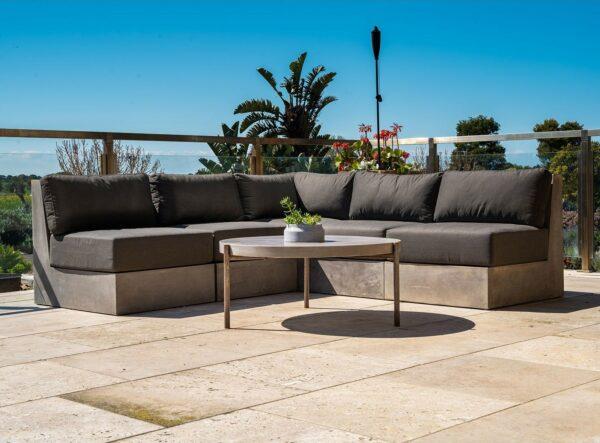 We all dream of vacationing at a faraway resort by the sea, but after a few weeks, we yearn to come back to the comfort of our home and the company of our loved ones. As much as Instagram will have you believe otherwise, sharing a hotel pool with a bunch of obnoxious strangers and their noisy kids isn't the definition of relaxation. In fact, getting to sit back in the privacy of your outdoor space feels 100% more enjoyable. That said, if you have an outdoor space like a patio, alfresco or a terrace, consider yourself lucky as you have a go-to relaxation and entertainment spot all-in-one. An outside area can bring you the amenities and comfort of home while allowing you to take in the fresh air and lovely colors and scents around you. However, for those precious few square meters just outside your door to feel like a genuine respite, you'd need the right elements. Here are some tips to make sure your outdoor space is comfy, functional and attractive.
Furniture Designed to Resist the Elements (And Look Good While at It)
First of all, nobody is stopping you from using a cheap plastic chair or your nana's old rocker. But if you want to have something that's long-lasting and leaves a good impression on your guests, then you need to get yourself some sturdy furniture designed for the job. Make sure to do some thorough research before bringing out your wallet. Whether you go shopping for outdoor furniture online or from your local furniture stores, check well whether it's built to withstand all kinds of outdoor conditions from scorching UV rays to heavy storms. In other words, look for furniture that's made of strong and weather-resistant materials.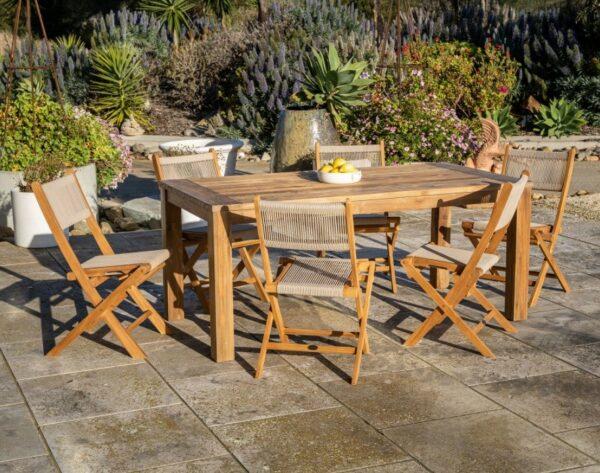 That said, rattan can be a great choice for outdoor use, especially if you have a limited budget. It is completely waterproof and can be treated to be mold- and UV-resistant. A huge plus is that furniture made of rattan is as light as a feather, making it easy to move around. However, rattan can't compare with the longevity of sturdier and heavier materials like metal, hardwood and concrete. If you're looking for a lounge set for a contemporary-style outdoor space, nothing beats powder-coated aluminum tables, chairs and benches. These furniture pieces are 100% corrosion resistant, UV resistant and aren't susceptible to pests or pets (handy, if you have a dog that likes to nibble on everything within its vicinity). This type of furniture can also easily be tailored with comfortable outdoor cushions made of the right fabrics.
And if you want to create more of a vintage vibe, opt for pieces made of wrought iron known for their worn-off old-timey elegance. And if the wood is more your cup of tea, a great option is teak. Teak furniture comes with natural oils which act as protection against moisture, rot, pests, and sun damage. What's more, teak is also an especially attractive choice due to its golden color and rich texture. Since teak and wrought iron pieces can be expensive, don't hurry your purchase unless you really need to. You can shop around and find attractive deals on outdoor furniture online when it's the end of the season and enjoy significant savings.
Come Up With the Perfect Layout
Once you know what furniture materials you want, size and capacity are the next factors to consider. So, think about how many people you want to use your outdoor space and make sure that you design it in a way that everyone feels comfortable and there's no restriction on traffic flow. If you need to work with a small deck or patio, a compact rectangular or oval coffee table will be more space-efficient than a huge round one. On the other hand, if you have a big family that you share summer BBQs with, a big round table at the center will be perfect for conversation and bonding. As for the seating, there's the option to choose from 4 people to 8 person lounging sets. However, it's often best not to go for a really large set as it won't always be used to the maximum. It's best to choose a set that's large enough to fit all the people living in the house. You can always add extra seats simply by having a stash of additional folding chairs.

Put a Shade Over Your Head
If you have a roof over your patio or deck or an alfresco, you can lounge outside at any part of the day. But if your lounging area is in the middle of the lawn with the sun directly shining on it, nobody will want to use it. With that being said, you need to find ways to create a comfortable shade that you can chill under. This can be done in a variety of ways, the easiest of which is to place a large umbrella. Alternatively, you can provide shade for your outdoor lounge spot with a pergola with a tent-like roof, or even build a gazebo if you have the budget and time to do it.
Make It Comfy with the Right Accessories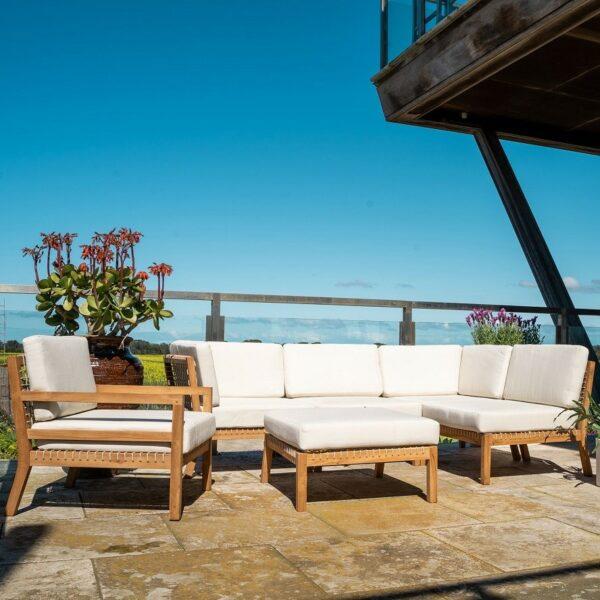 As mentioned, you can always tailor the look to your outdoor furniture with a set of outdoor pillows and chair cushions. These accessories can give the sturdy outdoor furniture the homey comfort it desperately needs. Plus, they are cheap and you can always switch them up when craving a new look. For instance, you can have different pillows and cushions for different seasons, thus giving your outdoor space the perfect seasonal vibe. You can also throw in some throws in a wicker basket for snuggling up when it gets chilly. Also, don't forget to bring some comfort underfoot with a nice outdoor rug. The ideal outdoor rug can help keep your feet warm in the winter and clean in the summer – that is, if you like to walk around your outdoor space barefoot.
Create Mood with Ambient Lighting
And don't forget the last piece of the puzzle – proper lighting. Currently, one of the top choices for brightening up an outdoor space is string lights. They cast a warm glow, resembling fireflies, thus creating the perfect intimate mood once the night falls. Quite different from Christmas lights, you can find outdoor string lights specifically designed to withstand the elements and which can be battery operated. If you like more than just a soft glow, another option is wall sconces or spotlights which can be operated by a motion sensor. Also, don't forget to illuminate walkways, stairs and other areas where safety and visibility are crucial.