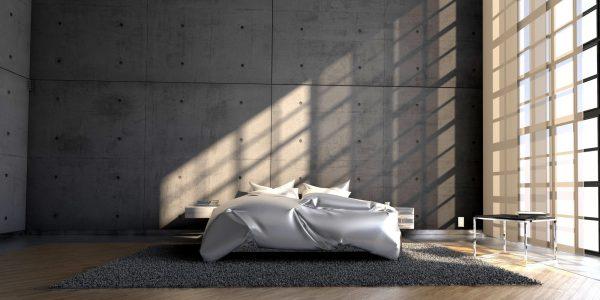 Your modern style needs a contemporary bedroom to match. Create your dream sanctuary with these refreshing interior design ideas for bedrooms! Our bedroom is the place where so many of us spend most of our time. We sleep here, and we often seek out our bedroom in times of distress. A bedroom is a place you can go to when you just need to escape the world and drown out some of the noise. Since your bedroom is your sanctuary, you're going to want a space that is aesthetically pleasing and fitting of your style.
If your style leans more on the modern side, keep reading to see our contemporary bedroom ideas!
Industrial-Themed Modern Bedrooms
Minimalist furniture paired with neutral colors will make your industrial-themed bedroom completely come to life. Rustic furniture paired with modern accents will give your bedroom that warm, comforting feeling, while also maintaining a sophisticated look. Industrial-themed rooms are not a new design concept, however, they are perfect for those seeking a contemporary bedroom design. Keep your mattress and bed frame low to the ground, incorporate some contrast into your color scheme, and experiment with some brick to easily add an industrial flair to your space! If you're looking for the best memory foam mattress to compliment your space, find out more from Mattress Advisor.
Monochromatic Contemporary Bedroom
Whoever said that a bedroom had to be colorful to be beautiful? A monochromatic design will focus on using one color to bring the entire room together. It's true, one color can be all you need to create a comforting, simple, and modern bedroom! If you're someone who has a busy, often unpredictable life, then a monochromatic design concept would be perfect for you! The simplicity of a monochromatic design provides a calming effect to your room without sacrificing the warmth you're also looking for. Minimalism is slowly gaining steam as one of the most popular bedroom ideas. With one base color, some gorgeous textures or patterns, and wide-open space, your monochromatic bedroom will be one you will never want to leave.
Warm and Cool Color Palette
Have you ever been stuck between choosing a warm color scheme and a cool color scheme? You crave the comforting and cozy feeling that warm colors bring, while also dreaming about the elegance that cool colors bring. Well, why not add a mixture of both to your list of modern bedroom ideas? While some may think that warm and cool colors together will clash, it is actually the opposite outcome. Since warm and cool colors create contrast when used together, a clean, contemporary balance is achieved. Go ahead and mix those light blues with those rich browns! You'll find that they add a nice touch to your bedroom.
Your Bedroom is Your Space
How our bedrooms are decorated means a lot more to us than many of us probably even realize. We want to feel safe, comforted, and calm when we enter our "happy place." This is why choosing a theme that reflects our taste and can satisfy our needs is essential.
If you enjoyed reading our contemporary bedroom ideas, take a look at our Christmas decorating ideas!