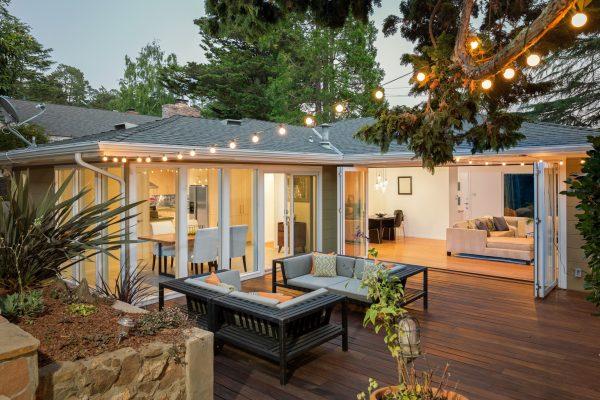 Are you trying to figure out how to create a beautiful backyard getaway? Read this article to learn more about creating a backyard oasis.
With more people planning on staying home this summer than in recent years, we're seeing backyards become the new vacation destination. Is your yard up to the task of filling the "fun getaway" role? If it isn't, you're not alone. Many have relegated their yards to occasional use and only recently have begun to see the value in using them to the fullest. Our team has compiled what we feel are the most transformative changes you can make to your outdoor space to create the perfect backyard getaway. Investing in any one of the upgrades we suggest is sure to add hours of fun to your yard which could make staying in every bit as fun as going out.
Install a Pool
Sometimes, sticking with the classics is the best way to go. To that end, our first backyard getaway suggestion is to install a pool. Pools, particularly during the summer months, can provide hours of fun activities ranging from water sports to relaxation. The best part is that there are many types of inground swimming pools and above ground varieties, one of which is sure to be a perfect match for your space.
Make Your Deck Inviting
For those of you that are lucky enough to have a deck, investing in it to make it as inviting as possible can be a huge plus for your yard. When prioritizing how to make your deck inviting, we suggest adding ample cushioned seating, awnings, and fans if your area is prone to heat. From there, all you need is a few family members or friends to have a great time.
Buy Lawn Games
Bocce Ball, Giant Jenga, and Horseshoe are all great examples of fun games that are meant to be played outdoors. Investing in just one or two of the gems we've mentioned or any of the other hundreds of options you have when it comes to outdoor games can transform your boring yard into an entertainment destination. Lawn games are affordable, can be bought at most big-box stores, and are generally simple enough for the whole family to enjoy.
Build an Outdoor Movie Theater
Nothing says summer quite like putting up a projector and watching movies in your backyard. If you and your family are fans of cinema, we recommend purchasing an inflatable projector screen, buying some popcorn, and turning your yard into a theater. Given that it might be a while before most people feel comfortable returning to actual movie theaters, creating your own could be an excellent move.
Invest in a Fire Pit
Fires bring warmth, light, and attract great people, all of which pave the way for unforgettable memories. For a simple way of introducing fire to your yard, consider purchasing a mobile, metal pit which you can buy at a local hardware store. To take things to the next level, build a pit into your lawn area. Just be sure you've taken proper precautions to ensure your space doesn't pose a serious hazard to its surroundings.
Erect a Bar
What's more fun than mixing cocktails under the moonlight? We're not sure there's an answer to that question. If you agree, building a bar on your outdoor patio is a must. You could go all out with your bar by installing a permanent one or save a few bucks by going with a mobile bar that folds up between uses.
Take Your Kitchen Outside
Why stop at a bar when you're adding comestibles to your outdoor area? Take things a step further and add a whole kitchen! Areas that feature frequent, warm nights can benefit massively from outdoor kitchens where people can grill, laugh, and eat together under the stars. Outdoor kitchens can be pricey since there aren't many temporary options when it comes to installing them. If you can foot the bill, though, and have the right weather, they'll definitely bring a special dimension to your yard.
Up Your Privacy
One of the biggest barriers some run into when creating a backyard getaway is that they feel self-conscious spending ample time where neighbors can see them. If privacy means a lot to you, add elements to your yard that help support that need. Adding tall hedges to your yard or hanging sheet material around your deck can have a substantial impact on your yard's feeling of privacy and your enjoyment of it.
Add Tons of Shade
No matter how fun your yard is, if it has a lot of sun exposure and no shade, nobody is going to use it during the day. Rather than resigning your yard to being a nighttime-only destination, make investments in umbrellas, trees, and other shade-providing items. Doing so can increase your yard's use substantially.
Don't Forget the Lighting
Lighting can make or break a backyard in the evening time. Be sure to put thought into yours so you and everyone else that's enjoying your yard past sundown can feel safe and supported. For extra effect, consider investing in color-changing bulbs that integrate with smartphone applications. Phillip's Hue bulbs are one example of that technology.
Make Your Backyard Getaway a Real Possibility
Replacing going to exotic places this summer with a backyard getaway might seem like a sad proposition. Believe us when we say, though, that by adding the right additions to your yard, your outdoor space will begin to feel like a place you could spend the whole season enjoying.
Our team wishes you the best as you upgrade your outdoor space and welcomes you to explore more of the helpful content on our blog.