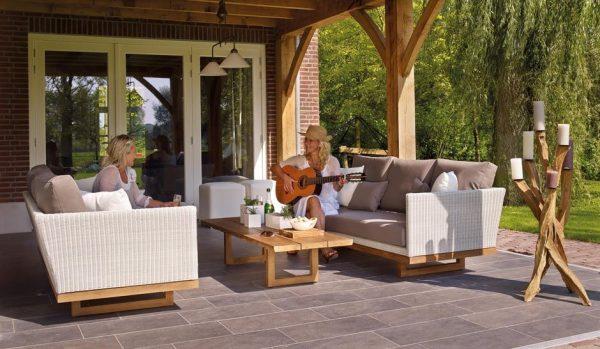 If you've got a beautiful outdoor space, you need to fill it with the right furniture. Read on to learn how to choose the perfect home patio furniture.
When it comes to home improvement projects, choosing the one that will add the most value to your home without breaking the bank can seem difficult. Upgrading your yard with a well-furnished patio can add as much as 12.4 percent to your property's value. To see that improvement, you need to choose the right type of patio furniture for your space. If you're like most homeowners, you're probably not quite sure where to start. Finding the perfect home patio furniture for your space doesn't have to be as difficult as decorating the inside of your home. In fact, it can be much easier.
Here are a few things you'll need to do to set yourself up for success once you start browsing your options.
Think About What You Really Need
Before you can start shopping for patio furniture, you need to think about what you want as opposed to what you really need. Though it's tempting to buy a couch, several chairs, an outdoor coffee table, and a decorative storage bench, you might not need all of those pieces. Draw up a list of the pieces you know you need to make the patio feel comfortable and inviting. Then, create a list of items that you'd like to add to space if possible. Once you have those items in mind, take a look at your patio. Map out the approximate size of each piece of furniture and see what will fit. Remember, it's best to avoid overcrowding the patio. You want the space to be usable and allow for freedom of movement when people are using it. If you have too many pieces of furniture in place, it will make the patio seem cluttered and could make it hard to access the furniture when you're ready to relax.
Set a Firm Budget
Buying patio furniture can easily cost you as much as a high-quality set of furniture for your living room. This means you need to set a firm budget before you even start looking at your options. Figure out how much you're willing to spend on your furniture. This might mean relying on your savings or looking into stores that provide in-house financing to help you pay for each piece more slowly. Regardless of how you're going to pay for your patio furnishings, make sure you stick to your budget. The last thing you want to do is to go into debt buying furniture that you can't really afford.
Look at How the Weather Will Impact It
Whether you have a covered patio or are looking to leave your furniture out on an uncovered deck, you need to choose materials that will stand up to the elements. Think about the patio space you have at your home. If you have a covered patio, you'll want to choose furniture that can withstand the changing temperatures it will experience in your yard. You won't have to worry as much about choosing pieces that aren't resistant to sun fade and damage. If you have an uncovered patio space, you'll want to look for furniture that won't get damaged by the sun or deteriorate in the heat. You may also want to consider installing a patio cover to protect your investment. If you're not sure where to start, check https://www.buttefence.com/the-ultimate-guide-to-patio-covers-of-idaho/.
Consider the Maintenance Requirements
Ultimately, all outdoor patio furniture will need occasional maintenance if you want it to last for years to come. However, some types of furniture will require more maintenance than others. Think about the amount of time you're willing to spend taking care of each piece of furniture you're adding to your property. If you're willing to put in the effort of cleaning and conditioning your furniture, solid wood options are a great choice. They add warmth and color to space instantly. However, if you're short on time or don't want to spend hours each month keeping your furniture looking like-new, choose a lower-maintenance option. Sets made from durable cast iron, high-quality plastic, and even steel can all give you the low-maintenance elegance you're looking for.
Never Neglect Comfort
You're looking for the perfect home patio furniture because you're going to spend time using it each week. This means you need to prioritize comfort while you're searching. If possible, try out the pieces before you commit to buying them. Shop at local hardware and furniture stores to get a feel for what each piece is like. If you can't shop in person or prefer to order furniture online, read up on the reviews for each collection. Previous purchasers will let you know exactly how comfortable the furniture is so you can make an informed decision. It's also a good idea to read up on the return policies for each online store you're considering ordering from. This way, you'll be able to try out the furniture and send it back if you're not happy with the quality or the feel.
Always Invest in Quality Pieces
When it comes to the best patio furniture and patio furniture covers, you get what you pay for. Cheap pieces may save you money upfront, but they won't last as long and you'll end up needing to replace them sooner. High-quality furniture will cost more money, but you'll get years of use out of them without having to worry about the finish or comfort deteriorating. Instead of buying the cheapest option on the market, do your research, save up, and get outdoor furniture that you'll be able to use for years to come.
The Perfect Home Patio Furniture Is Easy to Find
Finding the perfect home patio furniture for your backyard doesn't have to be difficult. Keep these tips in mind and you'll be able to find pieces that you'll love using for years to come. As long as you prioritize durability and comfort over price, you'll be in good shape.
Looking for more advice to help you transform your backyard into an outdoor paradise? Check out our latest posts for more tips and tricks.