You made the important decision and will undergo a kitchen renovation, and now you are dealing with the issues surrounding work: materials, professionals and furniture to buy. If this is your current universe, you've come to the right place to learn all about kitchen makeovers. We will give you four essential tips to make your change without mistakes, headaches or regrets. We are going to talk about coverings, customized furniture, choosing suppliers and professionals who will carry out your work—everything for you to have the kitchen of your dreams and no setbacks. Keep reading and start your makeover now!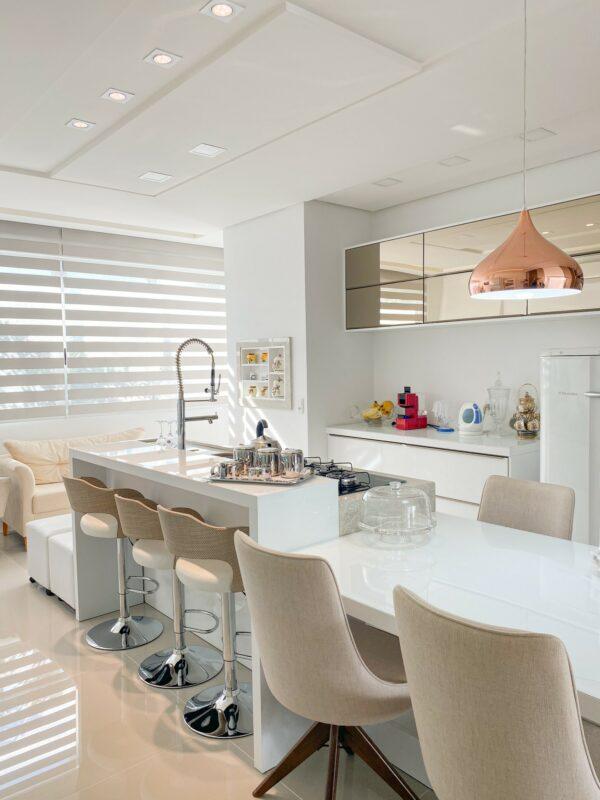 STARTING THE WORK AND KITCHEN RENOVATION
The first step is to plan your work well. Make a careful analysis of what you need. Are you going to do a renovation just to change the atmosphere of your space, or do you need to adapt to it? Write down everything, prioritize these changes — if any —, take advantage of the fact that you're going to do some work and also, write down some treats you'd like to see in your kitchen and define the new style that your space will have… Or if you'll keep it, and that's it change some furniture. With the new format of your room in mind, start budgeting your work, consult professionals who are capable of making/redoing the infrastructure (if necessary), companies responsible for making the planned furniture and who can even guide the project. In fact, the ideal is to take your project to a custom furniture company first so they can analyze your idea, give tips and present new concepts and news in the sector. Something you don't even know you need, but it's already on the market.
CHOOSING THE COATING
With a project in hand, start thinking about the type of flooring you will choose for your kitchen, both for the floor and walls. You can look at the kitchens of rudn enclave for interesting coating ideas. This topic deserves special attention so that you don't make the mistake of putting an unsuitable floor on your kitchen floor (something that can't get wet, skid or have friezes that accumulate dirt or grease). Also, think of a material that can be washed often, is easy to clean and, of course, matches the decor you've chosen. Wall cladding follows a similar logic: it should help to decorate, be easy to clean and protect your walls from water and grease (two items that are abundant in this type of space). Stone cladding with porosities, or wood with cracks, should be left out when making this choice. You should also consider the color of the planned furniture you've chosen and the color of the appliances in your kitchen to make a bet that harmonizes and the decor stays the way you've always dreamed of.
Remember that some floors can be applied both on the floor and on the walls, representing an interesting design in the decor.
3. CHOOSING CUSTOM FURNITURE
As already mentioned here, after defining your renovation project (space requirements, necessary changes and additions of facilities), the second most important step is to choose the right company that will make your planned furniture.
That's because, in addition to the beauty and safety of delivering good material, they will be able to help set up your renovation project, give tips on space organization and present market news — items you may not even know exist, but that can add in comfort and beauty in your new kitchen.
In addition, choosing a serious and renowned company in the market is sure to avoid headaches in the future, knowing that the materials used are of quality, the most modern in the market, and a design that follows the trends in the sector.
Experienced professionals will also know how to advise on the placement of cabinets in areas with plumbing without this representing a problem with leaks and infiltrations, the maintenance and placement of light points — which will help in the functionality of the space and the charm of the kitchen — and also in the placement and adding plugs so that your area can be truly functional.
Mentioned like that, they may seem like simple items, but when left out of a renovation project, they represent annoyances and regrets for having been poorly done.
4. CHOOSING MATERIAL FOR THE KITCHEN COUNTERTOP
Another item that deserves special attention when renovating your kitchen is the countertop. Blue World City gives special consideration to this aspect of kitchen décor. In addition to matching the decor, it must be a functional item, identify with the house owners and with the time they are willing to spend cleaning and maintaining this item.
For example, a wooden surface tends to age faster, so it would need more frequent replacement or maintenance;
A dark, black stone can be a charm, but if it doesn't match the style of the owners of the house, it can be tiring;
Some types of stone stain, so if you're not so careful with space maintenance, it can damage your countertop. In other words, it will be a material that will require more dedication in cleaning;
The technology is also already present in this item, with stones made from a combination of elements that make them more resistant, less prone to stains and scratches and even with a greater combination of colors on the market. Examples of this are silestone, nano glass and corian. When in doubt, look for a renowned and qualified company in the market that can guide you about the variety, quality and reality of what you need. As we've seen, the kitchen renovation is not meant to be a headache but a time to enjoy and enjoy the change being made to the space. But the best way to do this and make sure that everything works out is by hiring renowned companies and professionals in the market who have vast qualifications in their area and with recommendations. Surrounding yourself with these cares and values, you will be sure that your kitchen renovation will leave the paper the way you imagined. Use these guidelines to prepare yourself for possible mistakes or ideas that will not work in practice and still be updated with all the news and trends in the market. Now that you know how to remodel your kitchen without mistakes, how about knowing a little more about American cuisine?