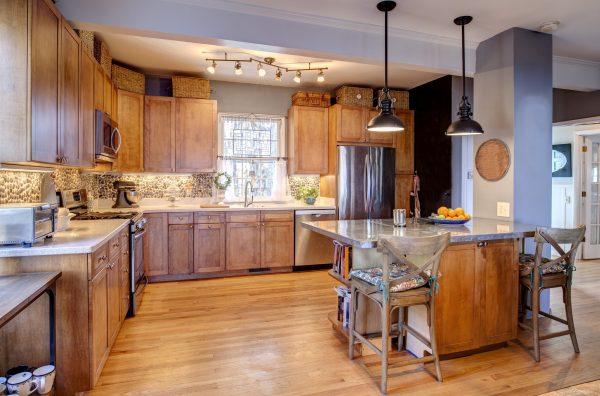 Remodeling your kitchen as a DIY project is a time for family bonding, customizing, and learning. Why spend money on professional contractors when you can have fun remodeling your kitchen on your own. One of the greatest joys that comes from a DIY project is getting to look at the final product with pride, knowing it's something you created.
If you know you want to complete a DIY project, but aren't sure how to remodel your kitchen, then this is the right guide for you. Below, you'll find several tips for remodeling your kitchen to help make the process much easier for you. Keep reading to learn more!
Draw Out a Design Plan
Your very first step when planning a DIY kitchen remodel is to draw out a design plan. This is essential and should be detailed. Without a design plan, you could face many challenges along the way. Make things easier for yourself by laying out where everything will go, which direction the doors will open, where windows will be installed if plumbing and electrical will need to move, and more. You can also consider keeping the current layout of your kitchen if you don't want to make too many changes and simply want to do some upgrades.
Choose Your Appliances First
Another great suggestion is to choose your appliances first. Why? If you wait until you've already started installing cabinets, kitchen islands, and more, then you might learn that the appliances you want won't fit. For example, if you decide you want a double-wide refrigerator, you'll want to make sure you planned enough space for it. If you decide you want a stackable double oven, then you'll need to plan for this as well.
Save Your Cabinets
Saving your current cabinets is a good way to save money on your remodel. Refinishing your cabinets and installing new hardware will make them look and feel brand new without having to break the bank. Try choosing hardware that's modern but unique. Crystal knobs are glamourous and just one of the many options you have.
Never Hammer Drywall Without Checking It
If you're doing a complete demo in the kitchen, you might need to knock down a wall or two. If this is true for you, remember to never hammer into drywall without checking for plumbing and electrical wiring first. Make a small hole first and check. If it's clear, then use a saw to cut out the areas you need or proceed to knock down the wall with caution.
Don't Stress the Cleanup
Our last bit of advice is to not sweat the cleanup. A kitchen remodel can be the cause of a lot of dust, dirt, and mess. One way to help reduce the mess is to install a fan in your window to suck the dust out of the house. You should also consider hiring a house cleaning company. When done with the remodel, have the cleaning company come in and clean up the mess for you!
Remodeling Your Kitchen Is Easy With This Guide
If you're planning on remodeling your kitchen, then you'll want to keep this guide handy at all times. Follow the advice given here to ensure you complete the best DIY kitchen remodel with as little stress as possible.
For more posts on real estate and home topics, be sure to visit regularly!