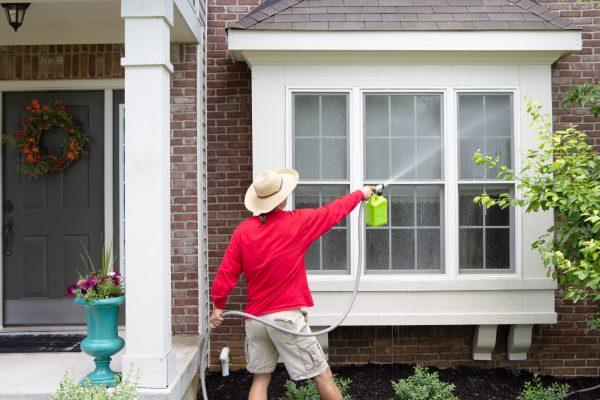 The chief reason for cleaning the outside of your house is to maintain the value of your property. Also known as the annual summer clean-up, property maintenance keeps your home looking great too. What better way to have something warm and welcoming to enjoy every day of the year by than by giving your pride and joy a thorough exterior cleaning?
Let's look at the more practical reasons why you need to keep the exterior every bit as spic and span as the interior. While our notes are directed at homeowners, they apply equally to commercial and industrial buildings.
Limit the Spread of Mold, Mildew, and Algae
Allowing the spread of mold, mildew, and algae can cause structural damage to your home and negatively affect your health. To get every nook and cranny super-clean, we recommend a pressure wash. The force of the water is often all you need to remove all the dirt. If detergents are required for more stubborn or neglected areas, biodegradable products are now available to make this part of your spruce-up job eco-friendly. If you're not keen on doing this job yourself, hire one of the many companies who will come, and pressure wash your house for you.
Keep Garden Vegetation In Check
Any exterior cleaning means that you first have to prepare the area around the external roofs, gutters, chimney, walls, and windows. Pruning tree branches encroaching on your house and cutting back overgrown creepers give your property an aura of neatness. Removing leaves from gutters could prevent damage to your roof and unwanted leaks. When dealing with the vegetation, check that none of the roots of trees and shrubs are interfering with the foundations of the house or exterior paving.
Exterior Cleaning Means You're Free to Paint
Having pressure washed all exterior walls and paved surfaces means that you're well prepared to give the outside of your home a fresh coat or two of paint. While most people only do this every two or three years, it is widely acknowledged that regular repainting preserves the building. It also enhances the value of your house. Safety is important when pressure washing and painting. The best way to do both jobs is to erect sturdy scaffolding. For that, you can contact the good people at www.quikscaff.com.au/, who specializes in the hiring out of scaffolding.
Greater Transparency
Cleaning windows prolongs their lifespan. Aside from being able to see through them better, you can feel good about having cleared away the cumulative grime caused by pollution. While you're at it, you can check the integrity of the frames and burglars bars. If you have wooden window frames and doors, this is a good time to treat them to minimize the effect of weathering.
General Check
During any exterior cleaning project, it is advisable to check other aspects of your building. These might include solar heating panels installed on the roof, security alarms, outside lighting, and even plumbing pipes. You will also notice any cracks in walls or broken roof tiles or shingles. The big outside clean can serve as an early warning. It is the perfect opportunity to make small repairs before they become costly big ones.
Relax When the Job Is Done
If you finish your exterior cleaning early on in the summer, you can sit back and admire your handwork. You might even have time to have a look at other articles on our blog, full of inspirational home improvement ideas – inside and out!