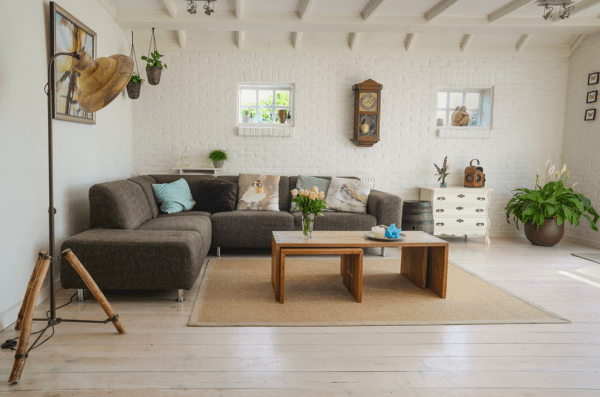 People spend, on average, 62% of their waking hours at home. That's a large portion of your daily life in one place, so it's imperative that you feel comfortable, relaxed, and happy there. Create a space you'll love for years to come with these 5 tips for choosing an interior design style for your new home.
Get the Furniture Dimensions Right
Your furniture is more than just decor. The best furniture should not only look good but also be practical, and functional. Easy to clean and adapt to changing life circumstances. If that sounds like a tall order, you need to discover the beauty and versatility of modular furniture.
This is especially helpful in the living room, where your seating needs will often be much higher with the arrival of guests. Modular pieces like an 8-piece modular sectional sofa make it easy to accommodate large gatherings while respecting your unique living room dimensions.
The biggest benefit of modular sofas is their versatility. You can arrange them as you see fit, and move them around when you want to revamp the room with little effort. This type of furniture is available in a wide range of styles to suit your needs, and many come with removable covers for easy maintenance.
Carefully Consider Your Color Choices
The interior design colors you choose do more than just create a particular aesthetic. They make a room look larger or smaller, more spacious or cozier. They also contribute to your mood and affect how relaxed (or not) you are in your home.
It's easy to get caught up in the hype around color trends, and the "color of the year". But if those colors don't personally speak to you, they have no place in your main decor. That doesn't mean that you can't incorporate them on a small scale, though.
Keep the trendy and fashionable colors for the accent pieces, and use colors that you truly love for the walls and floors. Not sure which colors you love the most? You'll get a good indication of what they are, by studying the contents of your closet. We tend to wear the colors we love most, more often.
Appliances Can be Stylish too
Yes, appliances count in your interior design style. Anything that you place in any room of your home, will influence its interior style. While most appliances are found in the kitchen or laundry room, your living room or home office will likely have audiovisual and tech equipment in them.
The days of bulky, ugly appliances and tech equipment are, thankfully, long gone. Some are fun and trendy, in bright or pastel colors. Others are more classic in black, or metallic finishes. Ordinary white is no longer your only choice.
Treat these pieces like you would any other element of your interior design, and build your color or style theme around them. Consider coordinating tiled splashbacks for the kitchen that echo the colors of your larger appliances. A geometric black-and-white tile design will always look modern and appealing.
Find Your Unique Comfort Zone
The minimalist look swept the world by storm, and many people still favor it for their home interiors. Spartan minimalism has now given way to a more relaxed minimalism, but what exactly does that mean? It means that you shouldn't stress about the details too much.
If you love the idea of a minimalist home, go for it. But you don't have to settle for a bleak and lifeless space. The main principles behind minimalism in interior design are:
• The clever use of high-quality yet simple furnishings
• Reducing clutter and allowing enough space for ease of movement
• Making the most of natural light
• Embracing neutrals as a base
You can have a minimalist interior design, but still create interest with varying textures and shapes. You can introduce accents of color, without them becoming overpowering.
If you lean towards the other end of the scale, as a maximalist, that's okay too. A bold use of color and pattern can be beautiful when layered artfully for dramatic effect. But limit this to areas of the home where higher energy levels are called for, like kitchens or game rooms, and keep bedrooms more restful.
Make the Most of Space
You can only work with the space you have. Fortunately, there are ways to maximize even the tightest spaces.
With space-saving furniture ideas all over the internet, you won't have to look very far for inspiration. No matter how small your new home is, there are creative ways of optimizing your storage space.
Shelving units that make the most of vertical space, are always popular, and they can be stylish, too. Wood (or a wood-look veneer) will add a classy touch to any living room. Alternatively, run a narrow shelf all along the walls at the height where a traditional dado rail would be.
If you love the idea of a bedroom with a four-poster bed but need storage too, here's another great tip for you. Have one built with shelving overhead for your books, personal effects, or anything else you need to store off the floor. This is a perfect example of combining efficiency with a touch of luxury.