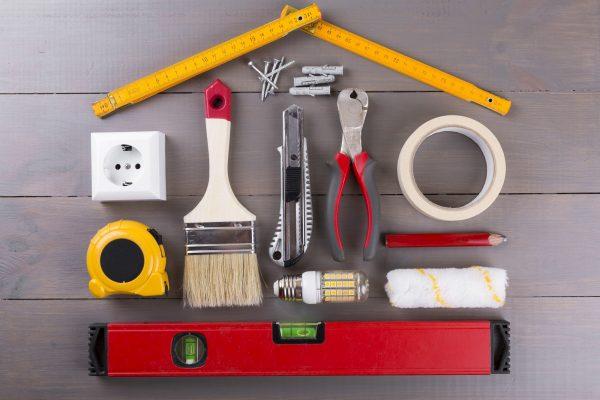 Upgrading your home doesn't have to break the bank! Here are a few easy home improvements to make this year. Surveys conducted in 2015 found that less than half of Americans are happy with their homes. About the same amount of Americans want a larger home, and less than twenty percent wanted a smaller one. Regardless of what we have in mind, we all want to change up our homes from time to time. Unfortunately, many of us don't have the money to hire contractors and other professionals to make these improvements, so we have to either do it ourselves or not at all. The good news is that there are some easy home improvements to make, and we'll talk about some of them in the paragraphs below.
Paint
One of the most affordable changes to make to your home is repainting it. Whether you want to change the color of something or just touch it up, a new coat of paint may make all the difference. The great thing about paint is that it offers a variety of different options, not just in color, but in the application as well. You may be satisfied with just painting your door or mailbox, or you might want to paint the whole house. The choice is yours.
Update Your Cupboards
In this context, updating can mean any number of things. Some people choose to remodel or replace the knobs on their cabinets. Others prefer to paint or add a wood stain to the cabinets. Still, others prefer to replace them altogether. With cabinets and similar fixtures, the most important thing to remember is context. Think about your kitchen before changing up your kitchen cabinets. Would the new changes still fit with the design of your kitchen? If the answer is no, ask yourself whether it's just the cupboards you want to change or the whole room?
Garden
It's never a bad time to get into gardening. It's a fun hobby with many health benefits. Your garden doesn't just have to be about plants. You could put in a birdbath or feeder to attract animals to your home. Keep in mind that a bird feeder may attract more than just birds. Other animals such as raccoons, opossums, squirrels, and chipmunks may drop in for a free meal. Some of these animals are pests and may have fleas or other issues, so you may want to keep them out of your yard. However, if you don't have an outdoor pet and don't interact with these creatures, you should be fine, and may even enjoy watching through your windows at night.
Windows
When it comes to windows, you have a few options. You could add a pair of shutters or repaint your existing ones. You could also add some trim or install a new set of windows entirely. New windows might take quite a bit of work and money, but they do present some interesting possibilities. For instance, you might try putting in picture windows for the many benefits they offer. Picture windows are named for the fantastic view they can provide. They're not meant to open. The point is to let in sunlight and provide a view.
Lighting
The next entry on our list of easy home improvements is lighting. Lighting can change a home quite a bit. You could try adding lights in places that didn't previously have any. Maybe you'd rather change the style and design of the lights. Different lights can add a lot of different factors to design. For instance, a chandelier can add a lot to an art deco theme. A vintage-looking lamp and Edison bulb might work well for a rustic setting. The changes can even be as simple as adding a lampshade or creating a Mason jar lamp.
Add Shelves
Shelves aren't just a fashionable addition to your home, but a useful one as well. Each one adds a little bit more storage space, which makes them perfect for those who have too much clutter. Shelf placement can also be impressive. Finding an uncommon and creative space for shelves can make a room that much more interesting. However, it's important to keep convenience and safety in mind as well. Some places don't have shelves for a reason. What you choose to put on the shelves can also add flair to the room. A well-placed bookshelf is definitely something to be proud of. Perhaps you remember seeing some images or movies of old-fashioned libraries, where the shelves were several meters tall. Sure, they're impractical, but they're certainly eye-catching.
Stairs
Remodeling your stairs can be a challenge, especially if you're thinking of repainting them. With a lot of renovations, and paint especially, you'll need to find a way to keep from walking on the staircase until the work is done. This is especially true if you have pets or young children. The good news is that painting can be done very quickly, but other changes might take a while to put in. Using the stairs might be a bit uncomfortable for some time.
Easy Home Improvements You Can do Yourself
Many of us want to change up our homes, but we don't always have the time or budget to do it. However, there are some easy home improvements you can do yourself. We've talked about some of these improvements in the paragraphs above, but there are plenty more out there. It might be a good idea to do some additional research on your own if you're interested.
If you want to know more about foods, crafts, and home renovation please visit our site!